As businesses mature in their wholly online work environments, cybercriminals follow suit to get the full rewards. A number of circumstances, notably the Covid-19 outbreak, have contributed to the rise in digital attacks. Today's enterprises report thousands to millions of attacks per day.
Security professionals cannot deal with a large number of threats without substantial defense. When systematic risks go unreported, the risks of causing severe harm to the organization increase. In response, todays' businesses spend billions on artificial intelligence (AI) to automate their procedures.
By 2027, the CAGR of the AI market for cybersecurity is expected to develop at a rate of 23.6%, reaching $46.3 billion.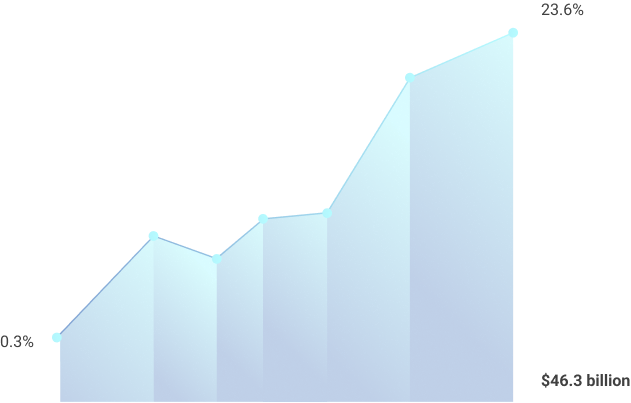 What is AI for Cybersecurity?
With the rise in the technology accessibility, attacks have skyrocketed. As enterprises implement technology in their operations, attackers take complete advantage of digitized weaknesses.
Amongst other tools, cyber attackers use current, publicly available machine learning algorithms. Consequently, AI presents both opportunities for IT professionals to better their cyber defenses and new threats. Today's cyber AI can spot trends in data and help security systems learn from their mistakes. Furthermore, enterprises can minimize instant response time and improve security measures using AI and ML solutions.
How Does AI for Cybersecurity Protocols Work?
Artificial intelligence is used by businesses to improve their defensive capabilities against cyberattacks. These solutions utilize machine learning algorithms to learn from previous data and spot anomalies. This allows organizations to effectively and efficiently avoid and handle cyberattacks.
For example, deception technology powered by AI assists in delaying and identifying cyber intruders.
The three main factors of AI for Cybersecurity Protocols are:
According to research, over half of the enterprises that have used AI-powered cybersecurity solutions have utilized it to detect threats. AI can detect unusual traffic sources with machine learning (ML), deep learning, and skills.
AI is also utilized in cybersecurity to predict cyber risks earlier. Data is scanned, and intelligent algorithms make suitable predictions. Furthermore, this technology aids in the detection of
major network topology weakness,
vulnerabilities,
and automatic asset identification
All while focused on cyberattack defense.
AI forms are constantly evolving in order to identify and block attacks at the same time. Organizations can create cost-effective, real-time AI software solutions to respond to attacks and notify the team about cyber hazards.
Today's corporate catchphrase is transformation.  Technological developments create the need for digital transformation, climate change creates the need for green transformation.  What change is ahead for your industry?
Learn more
Variations of AI for Cybersecurity
It's critical for organizations to secure their networks. In order to develop a secured cybersecurity network, it is necessary to understand the numerous network factors. In a typical system, cybersecurity experts would spend a lot of time dealing with all the data in enterprise networks.
The most challenging task for cybersecurity experts is assessing whether the mobile applications or web platforms being tested are malicious. The best option is to have an AI-based cybersecurity system that analyzes all received and outgoing connections in order to detect any suspect models in traffic data.
AI-Powered Anti-Virus Software
Anti-virus software works by scanning files on corporate networks to see if any of those files match known malware. The drawback of this strategy is that it necessitates regular software upgrades whenever a new pathogen is discovered. Alternatively, Anti-virus software with AI checks program activity using anomaly detection.
Rather than matching recognized malware signatures, AI allows the software to recognize abnormal activity caused by programs.
AI-Based Email Monitoring Systems
Scammers are increasingly using email as a means of achieving their wicked goals. To safeguard a company's work operations from cybersecurity threats such as phishing, businesses must recognize the value of email monitoring.
AI-based email monitoring software can help speed up the detection of cyber risks and improve detection accuracy. Emails are monitored using AI technology to see whether they comprise any indicators that suggest a threat.
NLP or Natural language processing is sometimes used to read email content to find terms associated with phishing attacks. Anomaly monitoring software can assist businesses in determining dangers in an email's data and responding appropriately.
Because of cyber threats and ransomware attacks, businesses have had a difficult time in the last few years. Today hackers are employing AI to identify avenues of entry into organizations' networks.
AI-Based cyberattacks affect a large number of machines and propagate quickly. Systems with such schemes are increasingly likely to use AI technology in the near future. Hackers benefit from AI similarly to how corporations benefit from it.
As a result, safeguarding against AI-assisted hacking may become a critical component of defensive security procedures. To prevent these problems, companies should improve the speed with which they can detect cybercrime.
Artificial intelligence is a necessary technology for companies looking to improve their security performance. Today, humans cannot scale to protect businesses from cyber-attacks alone, and AI can support capability and capacity development.
In a predictive manner, AI aids in the detection and prioritization of threats and malware assaults before they occur.